Category:
Discussion Questions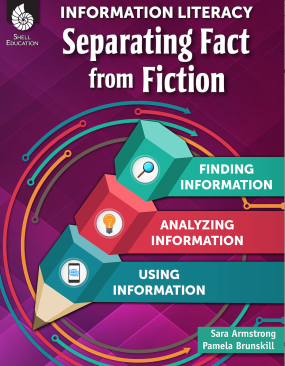 Teacher friends, if you've been overwhelmed by sorting through the amount of information online or have grown frustrated when trying to assess the authenticity of an article, you might be interested in my latest project for Teacher Created Materials. It's called Information Literacy: Separating Fact from Fiction. In ten chapters, Sara Armstrong and I talk about finding, analyzing, and using information in today's world. This deals with oldies but goodies like how to use graphic organizers and primary sources, and it incorporates new material such as how to spot fake news and online search tips to save you a googol of time. For educators who wish to blog and produce resources outside of the classroom, it also includes a chapter on copyright and fair use.
From interviews with librarians, instructional technology experts and specialists, the book includes background information to help educators sort through the maze of Internet sites and resources. Even more, there are ready-to-use handouts and activities for students.
If you teach expository or opinion writing, Information Literacy would be a valuable resource for your classroom and professional development. Here's a sample page to give you an idea of what's inside:
Should you read Information Literacy: Separating Fact from Fiction, please let me know your thoughts! I hope you enjoy it! It's available now on Amazon! Or, you can purchase it at your favorite bookstore!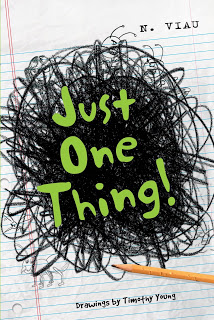 If you're looking for last-minute gifts for a middle schooler, you might want to check out Just One Thing! by Nancy Viau. And… you can get discussion questions for FREE!
From the back cover: Anthony Pantaloni needs to figure out one thing he does well–one thing that will replace the Antsy Pants nickname he got tagged with on the first day of fifth grade, and something he can "own" before moving up to middle school next year. It seems that every kid in Carpenter Elementary has some claim to fame: Marcus is Mr. Athletic, Alexis is Smart Aleck, Bethany has her horse obsession, and even Cory is known as the toughest kid in the school. Ant tries lots of things, but nothing sticks! IT doesn't help that there are obstacles along the way–a baton-twirling teacher, an annoying cousin, and Dad's new girlfriend, to name a few. Just One Thing! is chock full of hilarious adventures that will keep young readers cheering for Ant until the very end. For ages 8-12.
Take a look! Nancy and I had so much fun creating the discussion questions for you, too! We hope you enjoy them.